Getting To Vail:
Vail can be accessed either by flying directly to Eagle Vail Airport (EGE) which is accessible on American via Chicago, United via Denver and Delta via Atlanta. The Vail airport is about 30 minutes from the Vail airport and taxis and transportation to the village are easy to come by. You shouldn't need a rental car in Vail, so we recommend utilizing one of the shuttle options.
You can also fly into Denver International Airport (DIA). The drive from Denver to Vail is about 2 hours.
If you are looking to book transportation, we have arranged a discount through Epic Mountain Express. Please use this link to book with a discount: https://epicmountainexpress.com/group_redirect?code=VBCWEDDING
Tivoli Lodge
386 Hanson Ranch Rd, Vail, CO, US
970-476-5615
Looking for more of a boutique hotel experience? This is a property that we have a room block with and is within the Vail Village. In order to get our group rate, you MUST CALL 970-476-5615 and reference Gruskay/Bozzo wedding or use code: 113441.
Manor Vail Lodge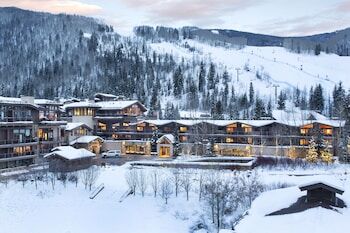 595 Vail Valley Dr,, Vail, CO, US
Traveling with friends or family? This property features great multi-room condos ideal for bigger groups. Manor Vail features a mix of 1, 2, 3 bedroom condos ideal for groups. There is a 3 night minimum, which can be either be Thursday-Sunday or Friday to Monday. We hope you can stay for the long weekend. To make a reservation please call (970) 476-5000 using group booking code 16H50Z or mention the name Bozzo - Gruskay Wedding when calling.
Austria Haus Hotel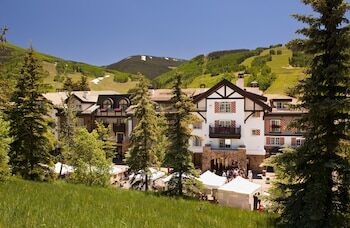 242 East Meadow Drive, Vail, CO, US
866-921-4050
This is one of the Vail properties we have contracted with. YOU MUST CALL 866-921-4050 and use Code: SVLBOZ22 or reference the Bozzo/Gruskay Wedding to receive the discount. This property is right in the heart of Vail Village.
We do not have a room block at the below hotels but they all are excellent properties in the heart of Vail Village.
There are also a number of condos, AirBNB and VRBO rentals available. If you end up renting one of these properties we advise renting as close to Vail village as possible so that you are close the Vail Village Gondola One on Wedding Day. There is a free bus system throughout Vail, but staying in the village is recommended.
Vail Marriott Mountain Resort
715 W Lionshead Cir, Vail, CO 81657, USA
(970) 476-4444
This Marriott is located about a 15 minute walk from the main Vail Village, but there is a free bus line that you could utilize to get to our various festivities. We don't have a room block, but you're welcome to book here if having a difficult time finding other accommodations.